TECHNICAL INFO
Do you know what bolts do you have? Is it metric, BSW, UNC or UNF? How strong is that bolt - Learn about bolt grade markings? Did you know there are different strength bolts throughout your vehicle? This document walks you through the process of working out what sort of bolts you may have. It has detailed pictures of all sorts of bolts you might find around the shed and on your car. It is a good basic guide for those wanting to replace bolts on their vehicle and or order polished bolts on line.
There are three parts to this document. [.pdf]
Plenum Pig Installation Document - Valiant straight six Hemi engines.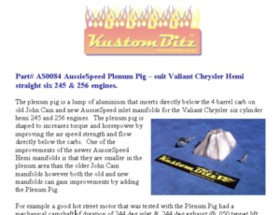 How to fit an AussieSpeed Inlet Manifold to a Ford EA-AU six cylinder OHC engine
click on the image to download now.
Roller Rockers, valve lash adjustment, rocker arm geometry, Yella Terra factory fitting & installation instructions.