Hi, my name is Ron Smith and I own and run Kustom Bitz with my family. I have been involved in hot rodding since I was a kid (roughly 5 decades) largely influenced by my dad who through the 1970s ran a tank Fairlane with a mildly worked 351 Cleveland and top loader. There were always hot rod magazines on our kitchen table, I never liked reading books much but you could not get me to put these magazines down.
When I was roughly 9 years old dad brought the 46 Ford Deluxe pictured here. While dad worked in the shed I would sit in the driver's seat pretending to drive and change the gears, not just for a few minutes it was quite often all afternoon.
At 14 years old I had a sketch I did of a 36 Coupe printed in Custom Rodder, I was stoked, I used to sit there for hours on end drawing hot rods, always hot rods and as you may be able to tell from the photo I was largely influenced by the American magazines hot rod cartoonists of those times.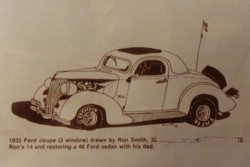 I frequented the swap meets with dad from an early age, and brought my first car at 17 years, a '58 Mainline ute running a 302 Windsor, C4 auto and Borg Warner diff. Pictured here from the Bendigo Swap meet in 1987 is my Mainline and dad's '37 Ford Sedan that runs a 350, 350 Chevy combo.
At 21 I needed a sedan and fell for a '66 Galaxie of which I still own. Shown here is a photo at the '91 Melbourne Vic Hot Rod Show after it's first budget rebuild, from after driving it around for a few years as it was. Then it got another more thorough rebuild later on and now sports different graphics.
At 26 I built up a '67 Mustang for the missus which we still get around in, I also messed about a lot with various XA/XB and XW/XY falcons as daily drivers, modified of course.
At 30 a hot rod was in order but money was tight so it had to be cheap, boy I sometimes wish I had just saved up. Shown here is the A model bucket I dragged home one weekend a long time ago and have spent countless years resurrecting it. It's character building I'm told.
Here is my baby don't she look great?
The 'A' model at one of her various early stages, another baby in the making.
The model A as she currently sits, nearly ready for rego in 2020.

Kustom Bitz started in 2007 but the idea had been in my head for a decade or so before that, and some of the bits have been on my cars for a long time. So as of 2020 we have been trading for 13 years and the business has become quite diverse in what I take on, the background of Kustom Bitz goes back a long way.